Home Wall Decor
Jul 14, 2021
Wall Art Guide
Wall art can act as the final icing on the cake for a home's wall decor. It brightens up a space in magical ways, be it a bedroom, office or a library. Wall art can be used to bring out emotions or describe a person's personality or even make a statement.
When putting up wall art, consider the height of your ceilings and placement of your furniture. You want to pick a piece of wall art that fills the wall space with intention. Properly sized wall art is important when filling a space in your home decor.
One should also consider the room where the art goes. Make sure it coordinates with the colors, decor and contrast of the room.
Types of wall art can be classified according to different materials used.
Materials That Can Be Used To Make Wall Art:
Metal Wall Art:
Metal wall art makes a very bold statement about the owner making it popular these days. Metal can give an old vibe when the art is rough, raw and unfinished, yet it can give a younger contemporary look when it is finished and polished. Metal wall art is also a new art medium for preserving photography by infusing dyes directly into specially coated aluminum sheets. Images made into metal wall art will take on a magical luminescence. Metal wall art can be custom framed to create a unique piece for your home decor.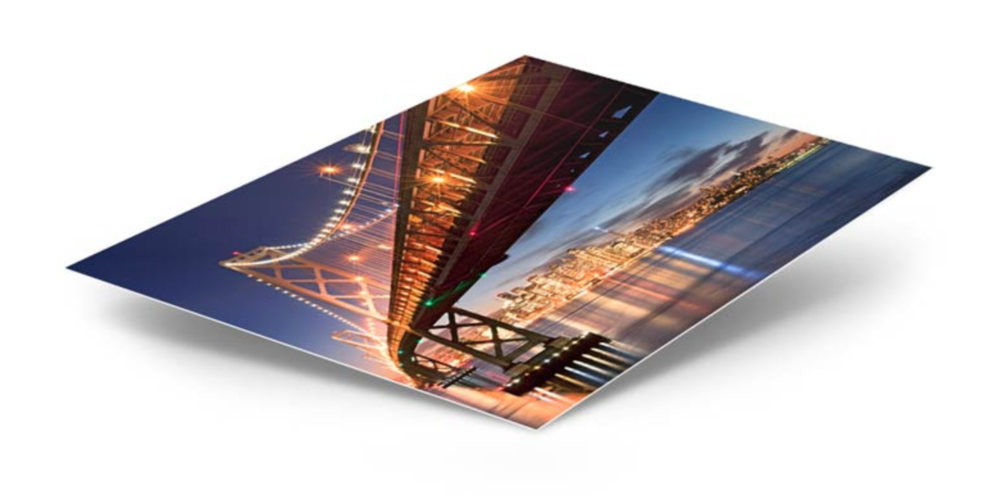 Canvas Wall Art:
Canvas is a plain-woven fabric made of cotton. Canvas tends to be heavier than paper and a painting on canvas can be visibly more pleasing than paper. Canvas is stretched on a wooden frame called a stretcher and coated with a liquid called gesso. This is done to prevent oil paint from staining the canvas fibre. If canvas fibers are stained, the painting will not age gracefully as it is supposed to.
Canvas wall art can also be made from photographs. Fine art giclee canvas gallery wraps are made on professional photo paper bonded onto museum quality canvas, or a fine art print printed directly onto canvas material. The print is then wrapped around an artist's stretcher frame. Canvas wall art is available with a variety of custom framing options in order to go well with your home decor.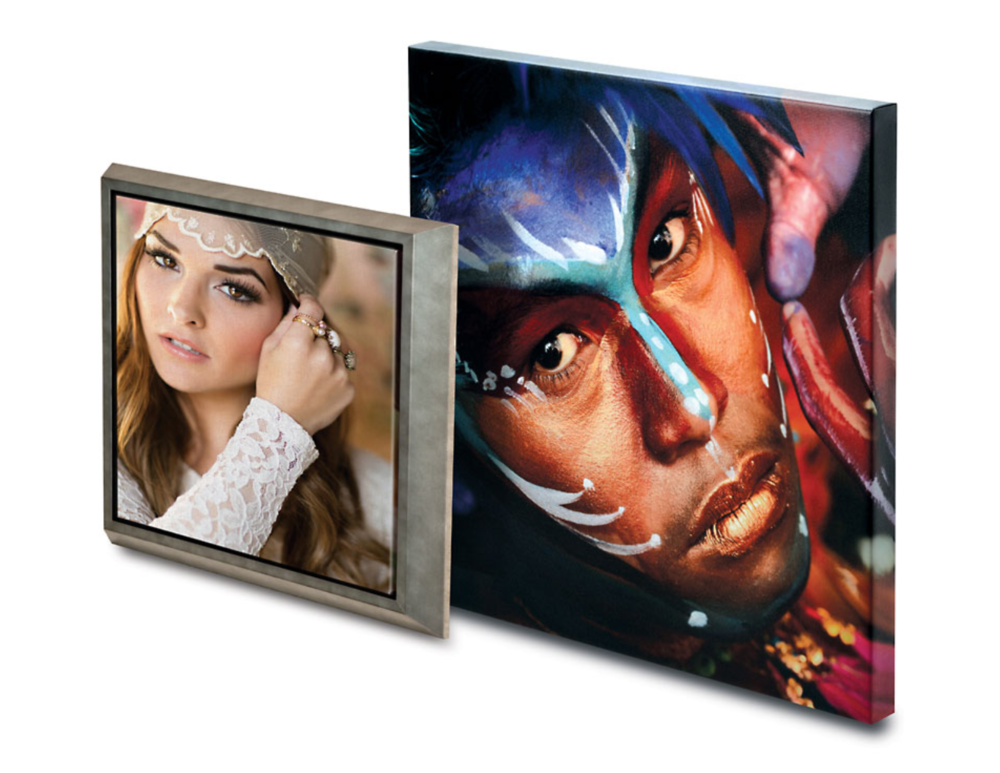 Wood Wall Art:
Wood is becoming popular for wall art. With wood, you can easily paint over it to achieve a cleaner look. Wood can also be left unpolished to get a vintage vibe with some exposed grain on it. With exposed grain wood, it brings out a warm homely feeling compared to polished wood that might seem too contemporary.
Photographic images can be printed directly onto wood and is also an eco-friendly form of wall art. The grain and other characteristics of the wood shows through the light and white areas of the photograph for a natural warm tone and vintage feel. Photography makes great wood wall art for your home wall decor.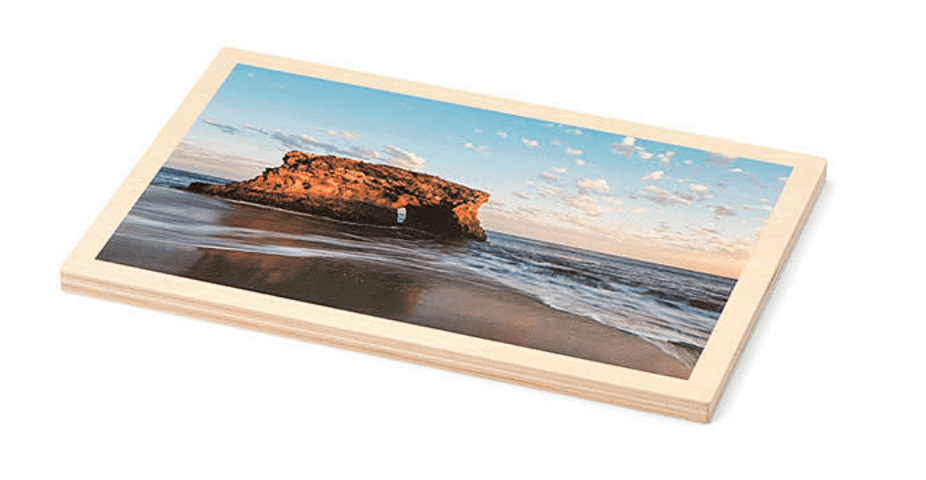 Framed Wall Art:
Framed wall art is probably the most popular choice for wall decor. Framed art allows you to choose from a variety of materials in order to coordinate with the colors and decor of your home. You can frame many different types of art. The frame can compliment the art piece and also compliment the home decor. Adding a piece of custom framed art to your home decor is a sure way to insure the vision you are going for.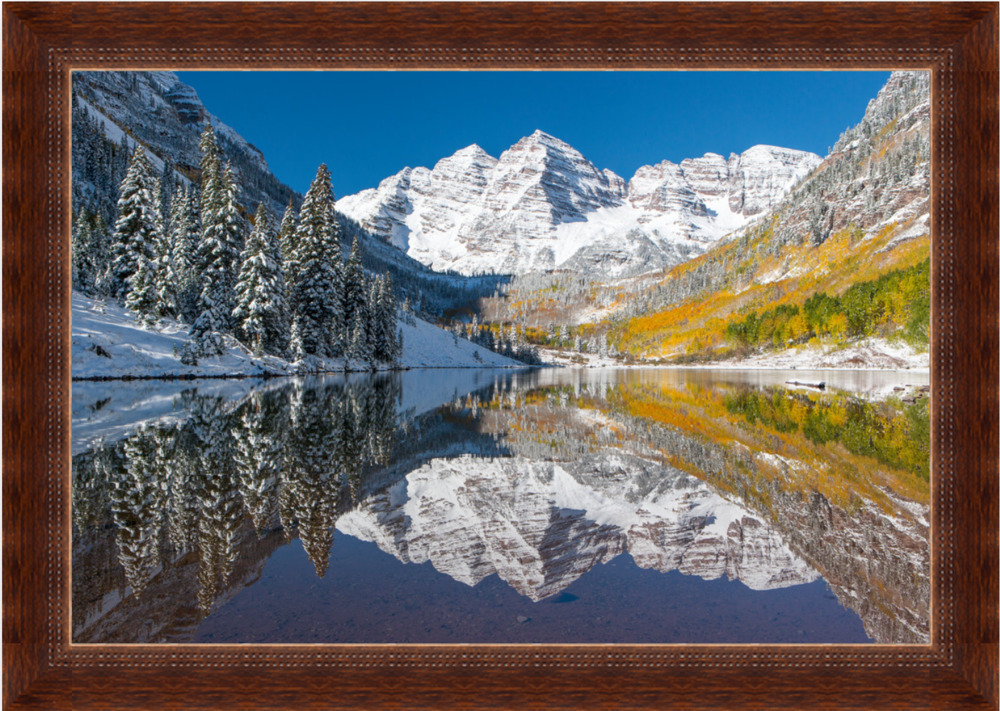 Now wall art can be of many types and ideas. People have found ways to put more emphasis on the walls because it's the first thing someone sees the moment they walk into a house.
Sculptures:
Sculptures can be used to cause a 3D effect on the wall. They are a great way to catch someone's attention when they walk into a room because of the 3D effect. It should be something that is both captivating and complimentary to the room. A sculpture that are big can completely change the look of a room. Sculptures can be made of many different things like plants, animals, people, food or objects.
Wall Signs:
Wall signs are a great way to accessorize a wall with whatever sign you might desire. This may be a sports team, brand of clothes or a place in the world. Wall signs may feel a little out of place but they bring out the love or interest someone has in something. They are a perfect way of decorating not only the walls but also other items in the room like bookshelves, study desks or dressing mirrors.
Photography:
Photography is a classic. It is typically in every house you walk into. Some people prefer pinning photos they have taken, while others prefer buying fine art photography prints. You can even buy nature wall art, forest wall art, mountain wall art, and seascape wall art. As mentioned above, you can create metal wall art and canvas wall art with photographs. All in all, photographs bring life to a room and is a great way to add to your home wall art decor.
Posters:
Posters may seem similar to wall signs, but these are made with thin paper and can be pinned or removed easily. Posters are popular in dorm rooms, halls or home theaters. Posters can be framed to prevent tear due to their thin material. Posters can be of musicians, movies, albums or places. Posters are usually cheap and easy to make and are suitable for people who are on a budget.
Wall art has a range of features:
Personalized
Personalization is entirely based on what a recipient wants. Wall art can be personalized sculptures, wood, photographs, wall signs etc. Personalization can be birth dates, wedding dates, names or star signs. Personalized items really stand out from other wall art as it is directed to a particular person or event.
Hand painted
This is a one-of-a-kind wall art that cannot be found anywhere else. Hand painted work is most definitely expensive but it's worth the money. Hand painting can also factor in personalization, although this means more money. Getting hand paintings is being supportive of other artists and is a great way to show your individuality with your home wall decor.
Sets
Matching sets can be risky but the outcome is very much worth it. Sets are mostly done when you have a few images that are alike yet they are not fit for the wall. This way, you pick several different types of art, that coordinate with each other, and match them as a set.
Polytych and Triptych
Polytych wall art and triptych wall art are beautiful wall displays using one photographic image across multiple prints. A triptych is a single image divided up into three different sizes and a polytych is a single image divided up into multiple sizes. These types of wall art displays are great for taking photographs and making them into pieces of art for your home wall decor. These are also called splits.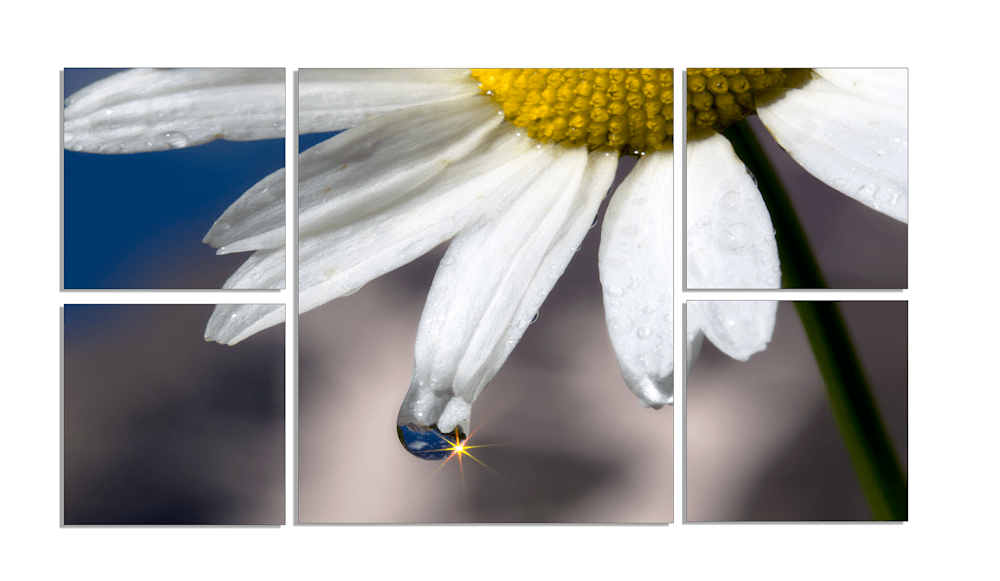 Wall Art Sizes:
Mini
If a piece of wall art is to blend in with other pieces in a space or a home, and people have to come closer to get a good look at it. This type of art work should be small. Wall art that is less than 10 inches in height or width should be able to hide among your other pieces.
Small
Wall art ranging from two feet to three feet in size is still considered rather small. This type of wall art looks great when bunched together with other pieces to create a set-like look, but can also stand alone when displayed.
Medium
Medium-sized wall art ranges from about thirty inches to fifty inches in height or width. This gives the art enough size to show details, which isn't possible with smaller pieces, but is not so large that it will dominate a room.
Large
Large wall art is larger than fifty inches but is smaller than oversized pieces. Over-sized wall art is usually taller or wider than fifty inches. Those few extra inches can give the art a little more attention and allow it to become a focal point in a room.
Oversized
Oversized wall art is larger that sixty inches and is intended for rooms that have big wall space with minimal clutter. The main purpose of an oversized wall art is to make it the focal point of the room.
Home wall decor also has an art style. This can be nature wall art to forest wall art, ocean wall art to mountain wall art, wildlife wall art to watercolor wall art, modern wall art to abstract wall art and everything in-between.
Different Types Of Wall Art:
Floral
Flowers are lovely. They come in different sizes, colors and shapes. Finding a floral wall art piece is easy because they are among the most common types of wall art. The key is to find a floral painting that you like and one that will last you a lifetime. Floral paintings should also coordinate with the room's décor and furniture. Flowers represent nature and can be considered as nature wall art.
Just like the floral wall art, animals bring life to a room. Basically a person is not limited to the size or type of animal wall art they desire. They can do a 3D, canvas or wooden wall art. Animal wall art should be inspirational and simple. Animal or wildlife wall art is a great way to add character to any home decor.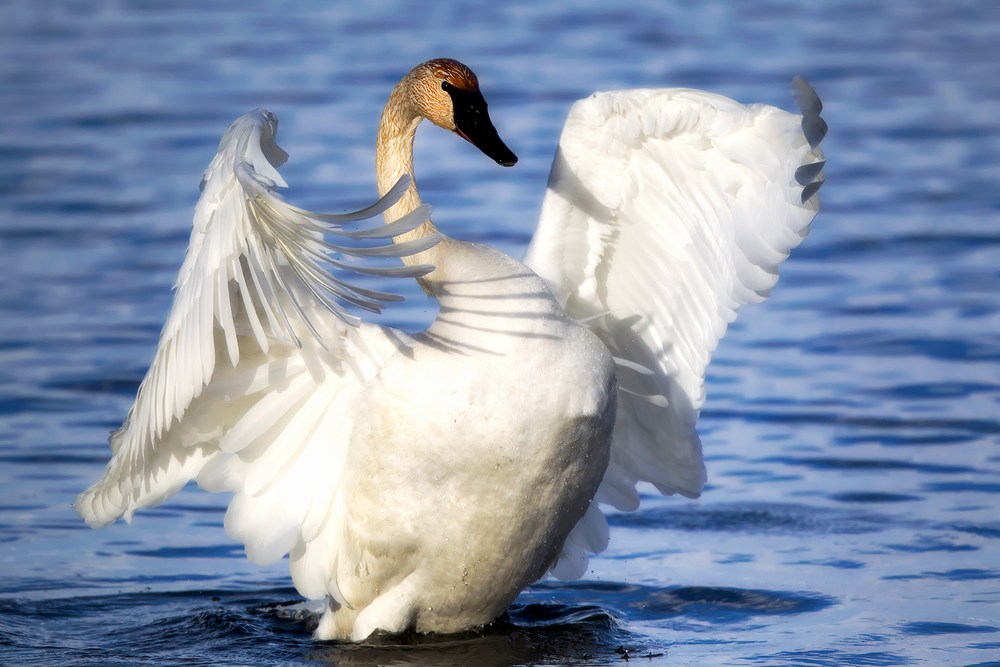 Coastal landscapes are beautiful. They have soft colors like blue, white and yellow. Seascapes tend to be calm and bring a sense of peace to a room. Ocean wall art is not usually bright, this way it never really changes much of the room's character. Ocean wall art has a vibe that is great for any home wall decor.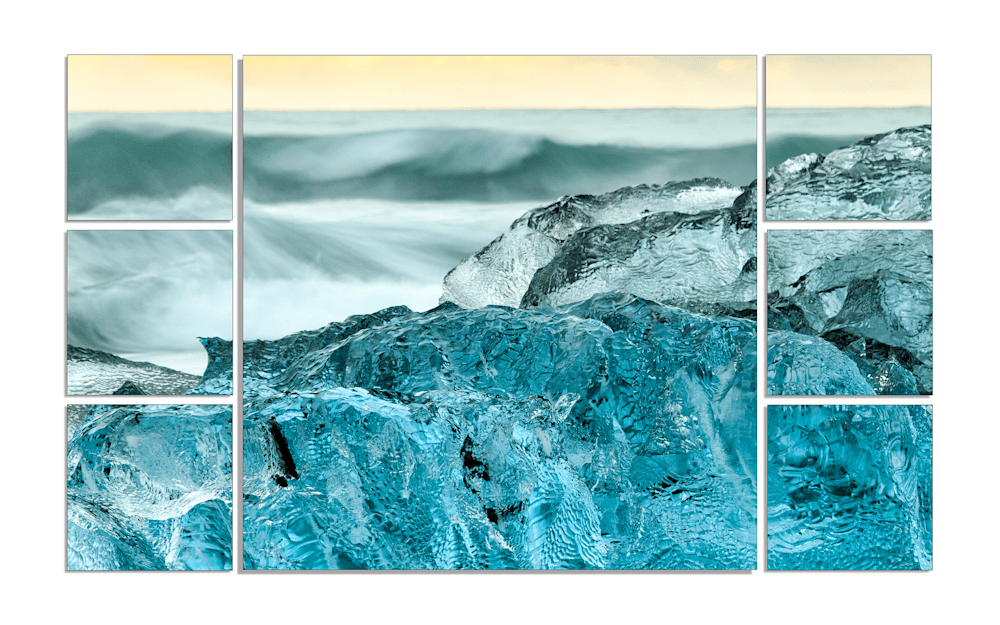 Modern or Abstract
Modern art makes you think. It forces someone to stand, look at it and evaluate it slowly. Modern wall art is never clear or direct to the point. It tends to give someone an interesting feeling about the owner of the art and the creator of the art. The same goes for abstract wall art.
Maps
Maps are a great choice for art. Be it a world map or a map that shows a town, maps are pretty interesting. Maps can be combinations of oceans and forests. Map wall art can be a fun way to add some interest to your home wall decor.
Watercolor
Watercolor wall art is soft and beautiful. When choosing watercolor wall art, you should pick a large piece that can be seen but still holds the house's decor.
There Are Also Many Reasons Why Wall Art Is Important In Interior Design:
It creates a focal point
Every room or space needs to have an interesting piece or side to look at, or one that catches the eye immediately as someone walks in.
Locations like above the mantle of a fire place or in the bedroom above the bed are the most eye catching locations.
Now depending on the size of the art, the location where the piece will hang is very important. If the art is too small, it will end up being swallowed by the surrounding decor.
It makes the room appear finished
Wall art is the finishing element that can complete a space or home with the snap of a finger. That little extra touch can take your space from simply looking functional to look as if it should grace the pages of a design magazine.
Choosing wall art that fits in with the decorating style that you've already chosen for the room completes the look. After that, it's all about choosing decor that you love and will be happy seeing hang on your wall several years to come.
When used properly, your wall art can provide an excellent framework that can be used to predict the rest of the room. Say depending on the color of the walls, floor and the painting, it is easier to foresee the finished look of the room.
It brings a sense of texture
Not all wall art is created equal. Some pieces may be 2-D paintings or something similar, you should try to find art in a variety of different mediums to help bring a varying sense of texture.
In addition, pieces like sculptures or shadow boxes add some depth to the room. If your style is young and contemporary, you could also consider doing a small mixed media installation that includes screens and digital art.
These bits of texture help add much needed weight to your home wall decor. Rough textures can make a space feel intimate and grounded while smooth textures bring a sleeker more aloof tone to the room.
If you are interested in purchasing an original nature picture from Robbie George Photography and making it into a piece of wall art for your home you can visit his nature photography galleries today! ~Robbie George